Displaying present location in the site.
A Global "Total Display Solution Provider",
Committed to delivering crisp image and visual solutions to meet the diverse needs.
Performance You Can Trust
NEC stands for product quality and design perfection with a reputation for reliability and an enviable Asian support infrastructure to back it up. Installing an NEC display means you can trust in our equipment and our company culture.
Designed for long term operation, NEC displays and projectors incorporate innovative designs, high quality panels and components and go through demanding quality assurance levels; displays ready for the most demanding mission critical applications, out of the box.
THE WIDEST PORTFOLIO OF DISPLAY SOLUTIONS OF ANY SUPPLIER
Today NEC boasts a comprehensive range of Desktop Displays, Large Format Displays and Projectors, with a model for almost any application from the largest venues or public places to offices and smaller classrooms.
All-in-one support system for NEC Desktops, Projectors and Large Format Displays
NaViSet Administrator 2 is an all-in-one remote support solution that manages the majority of NEC display devices and Windows computers. It is ideal for multi device installations over larger infrastructures, for example in the corporate/large businesses, transportation, energy and utility, leisure and museum, finance, retail industries. Through an easy to use and sophisticated graphical user interface (GUI), businesses can reduce their administration effort and costs by remotely diagnosing and correcting technology issues with connected display devices.
The NaViSet Administrator 2 software is designed to run from a central location and provides monitoring, asset management and control functionality of remote displays via LAN or serial connections. It can run continuously to provide automatic monitoring and control of devices while alerts can be set when specified parameters within the display device change.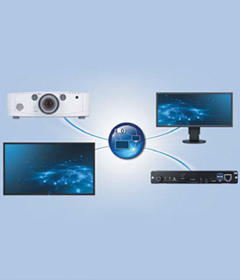 Videowall Content and Source Management Software
An ultra high resolution software package for an endless number of displays which is scalable in size and eliminates costly servers, matrix switches and distributors. It enables customers to connect an infinite number of sources to a videowall and freely determine size and position of this content.
Software also provides advanced capabilities like zoom, rotation, shading and transparency, enabling users to examine content with increased flexibility and effectiveness. Content can be saved as environments and restored on demand, grouped into slideshows, or scheduled to appear at the present time.
It is ideal for multiple applications, including Command & Control Centres, Public Safety, Aerial Surveillance, Military Operations, Scientific Imaging, Trading Floors, Fleet Management, Manufacturing Control Systems and Review of Medical Imaging.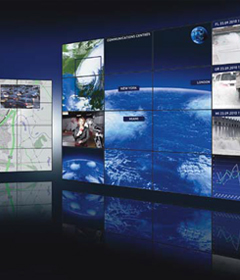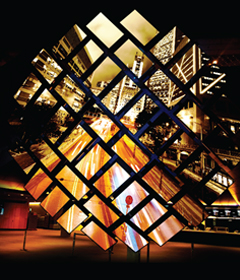 As a world leading name in Digital Signage, NEC displays are installed in some of the most challenging and highly visited locations and venues across the world. From 24/7 LED Backlit Displays for Performance Critical Applications to High Performance Value Ranges and Reference Options, NEC lead the market for Signage Solutions you can Trust.
World-class content creation, scheduling, distribution and playback of interactive and reactive media software
NEC's digital signage solutions let you distribute dynamic video, images, text and more directly to LCD Panels anywhere, anytime!
With NEC you are empowered to dynamically display digital advertising and informative content across your network on targeted screens, based on the individual schedules for each panel.
NEC's digital signage solutions have an easy to use interface, yet the power and flexibility that is only limited by your imagination to achieve your communication objectives with your target audience - with asuite of Windows based applications that allow you to create compelling content, then schedule and distribute that content across small or large scale networks of display panels.
From eye-catching advertisements and in-store promotions, to breaking news and announcements and up-to-the-minute timetables and schedules - the possibilities and different environments that can benefit from an NEC digital signage solution are endless.
Interactive & Collaborative Solutions
Next Generation Interactive Learning
It is the latest interactive whiteboard tablet solution, which combines advanced collaboration tools with the market leading utilities available with NEC Projectors to create the ideal collective presentation solution for learning establishments. Users can present, share and collaborate ideas and presentations across all major platforms (Windows, Android, Apple, Linux and iOS) and any connected device, such as an iPad, Android tablet, smartphone, netbook or laptop.
Software's platform independent approach means you can fundamentally upgrade your presentation system's effectiveness without the need to replace hardware.
Software operates in two main scenarios, a presenter scenario with powerful presentation and annotation features and the multi-user collaboration scenario which makes the learning process a fully inclusive class activity.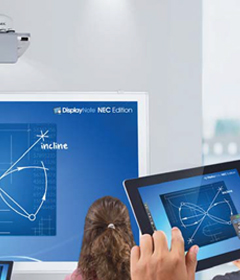 Interactive Wall Solution
Seamless Pen- and Finger- Touch System
Create new opportunities and enhance meetings, presentations and learning experiences with the new interactive touch projector wall and bring collaboration to both class rooms and conference rooms alike. Combine multiple projectors into an ultra-wide, up to 6.5 m* full screen size interactive wall space on any surface.
The integrated infrared touch capability allows several people to enjoy simultaneous seamless interaction with pens and fingers across the entire screen area without limitation from borders.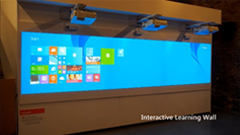 Touch Interactive Presentation
Creating amazing presentations with the power of touch. The software is designed to leverage the power of touch by making presentations more efficient and engaging. Just pick and flick your presentation to a primary and secondary display.
The software make it incredibly east to show images, videos and documents from your local hard disk, secure network share, USB drive and even your Dropbox to make presentation fast, fluid and easy to understand. It also allows you to bring the web into your presentation. Show YouTube videos, Twitter streams and of course your company's website with the built-in web browser - endless possibilities.