Displaying present location in the site.
Face Recognition Solution "Smart Face Authentication"
Automatic verification with a pre-registered image and an image captured by a surveillance camera with high accuracy.
NEC's face recognition technology has ranked No.1 several times as the world's most accurate technology in vendor tests conducted by the US National Institute of Standards and Technology(NIST).*
Please check the policies on personal information of the country where you are trying to install this system.
When detecting specific faces, so...
No matched face is registered, so...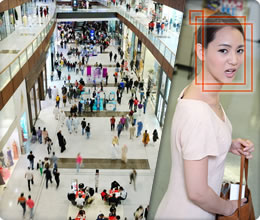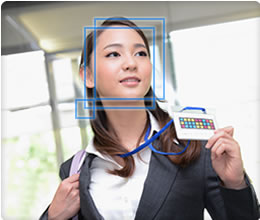 It can be also applied for ...
It can be also applied for ...
Measurements against specific people in a publicly opened facility
Searching for children wandering around off of their parents in a large scaled commercial facility
User identity checking services for shared services
Securing safety in hospitals and nursing homes
Identity checking services in an event site
Touchless & Cardless Time Attendance Management
KAOATO has supports various types of cameras regardless of the brands and can use PC as a monitoring terminal.
If you wish to install such systems yet not a large-scaled change in facilities and systems, why not considering KAOATO?
Its appeal is a high compatibility to already installed monitoring systems.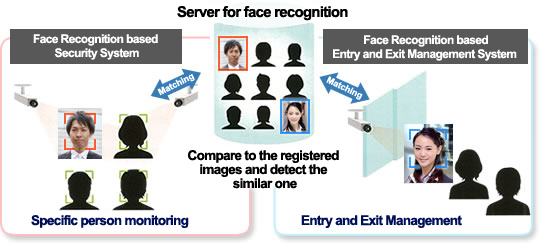 Advantages of Face Recognition
Easy-to-understand log display
You can keep not only text but also images as logs to recognize "when, where, who entered (visited) the shops".
Also, you can check the images in the log lists, and register specific persons at ease.

After installation, it is necessary to register face images to the system. However, the amount of effort can be decreased by using the captured images as described above. Hence, running cost can be reduced.
NeoFace, the facial recognition engine of NEC is adopted. The world-acknowledged accuracy of facial recognition
We adopted the face recognition engine, NEC's "NeoFace". The system won the world's finest accuracy in the biometrics technology benchmark test conducted by National Institute of Standards and Technology (NIST), US *.
*

The evaluation results do not represent recommendations by the US government for specific
Support a variety of different cameras
You can select a variety of cameras depending on your usage such as Web cameras, network cameras, analog cameras, near-infrared camera, etc.
After the images have been encrypted and saved, they are automatically deleted in a certain period of time. Furthermore, the facial images can be checked only by authorized users.
You can save HDD capacity since the log is stored as images rather than pictures.
The system can be installed in a small-scaled structure with several cameras. Then cameras can be added upon users' demands.
Services for each user's needs
We support customers' needs with plentiful experiences and functions developed through a lot of actual installation cases.
Connecting to a special camera

Linking to external device

Entering various sensor information